Celebrate National S'mores Day with these deliciously fun S'mores Candy Cups, a great indoor way to enjoy the classic favorite all year round!
If you love s'mores as much as I do then you probably are aware that Sunday is National S'mores Day! That's right… a whole day devoted to the delicious, gooey goodness that is a s'more. But as amazing as the classic treat is, I always like to find a new way each year to enjoy them. Enter S'mores Candy Cups, smooth chocolate, creamy marshmallow creme and graham crackers combine to make these irresistible bites of candy goodness.
Oh great it's National S'mores Day and it's raining where you live or you don't exactly have a roaring bon fire to enjoy toasted marshmallows from, no problem! These S'mores Candy Cups have all the flavors you're craving and are ready in about 10 minutes. Yes 10 minutes and no eye burning smoke to dodge.
What's your favorite part of a s'more? Mine is definitely the marshmallow, but let's face it… I love the chocolate too! Maybe it's just me, but I have a hard time resisting anything and everything s'mores related. So however you decide to celebrate this year, I hope you get  a chance to try these S'mores Candy Cups soon. Have a great weekend and enjoy!
Print
S'mores Candy Cups
Yield 12 candy cups
Ingredients
8 oz. melting chocolate
2 sheets of graham crackers, broken into square pieces
12 Tbs marshmallow creme
Instructions
Melt the chocolate in the microwave for 1 minute, stirring after 30 seconds.
Place a spoonful of chocolate into 12 foil cupcake or candy cup liners and using a pastry brush or your fingers brush it up the sides and evenly coat the bottom.
Place 1 square of graham cracker in the bottom of each cup, top with 1 Tbs of marshmallow creme and cover with more chocolate.
Crumble a little graham cracker and sprinkle on top for garnish.
Chill in the freezer for 10 minutes until firm, then serve.
Store leftover candies in an airtight container in the refrigerator for up to 5 days.
Courses candy, dessert
Are you looking for more delicious ways to enjoy s'mores?
Peanut Butter S'mores Muddy Buddies from Blahnik Baker
No-Bake S'mores Granola Bars from Spoonful of Flavor
S'mores Frozen Yogurt from It Bakes Me Happy
S'mores Bunny Graham Bars from Frugal Foodie Mama
S'mores Fried Scones from Simply Gloria
S'mores Fudge from It Bakes Me Happy
 S'mores Skillet Cookie from Will Cook For Smiles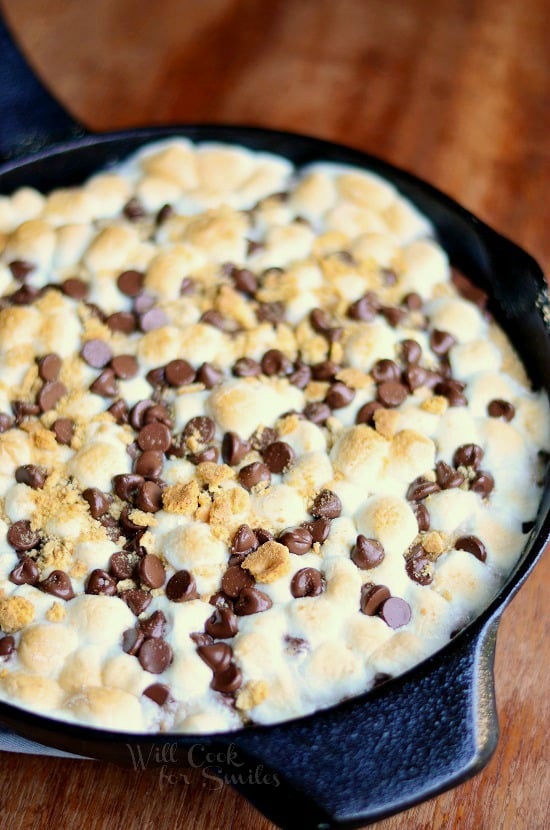 Mini Nutella S'mores Cheesecakes from Life Made Simple
 S'mores Macaroon Bars from It Bakes Me Happy
S'mores Peanut Butter Pie from What's Cooking Love?